First Tuesday Social Action Film Festival
Cosponsored by the Dallas Peace and Justice Center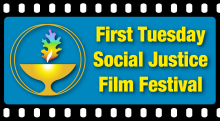 The First Tuesday of each month at 7:00 pm, UUCOC hosts free screenings of socially-relevant films. The screenings are followed by a community discussion, which often includes actions we can take for each issue. Films are shown on the large screen in the sanctuary. The films are free, as well as the popcorn and soft drinks! Donations are accepted to cover the cost of our license agreement and the purchase of new films.

Please visit our Film Festival page for details on this month's featured film:
How the Social Justice Ministry's First Tuesday Film Festival Changed My Life
- By Dee Stofko
First of all let me say, my life needed changing. After several mind-numbing years of raising three kids - now all safely ensconced in college - it was time to start paying more attention, living more responsibly, being more compassionate. The UUCOC's First Tuesday Film Festival helped shape the new me.

Since watching, "The World According to Monsanto," "Sustainable Table," and "Peaceable Kingdom," I have become vegetarian. I have been made aware of factory farms. Cows, pigs and chickens living in close, dark, unsanitary quarters, shot full of antibiotics, being fed GMO-corn to fatten them up quickly which, in turn, has fattened us up. More importantly, I have learned how to eat healthier by eating organic; to be more environmentally conscious by buying locally; and to make my voice heard through emails, calls and letters when my government does something that I don't like.

"An Inconvenient Truth" and "11th Hour" awakened me to how my choices were destroying our planet. My family now recycles, composts, uses organic fertilizer, and organic household cleaners. We have changed our electric supplier to one which uses wind and solar sources. We have traded our gas guzzlers for a diminutive Yaris and a Hybrid Prius that averages 45 miles per gallon.

"At The Death House Door" nudged me to join the "Coalition for Texans Against the Death Penalty" which keeps its members apprised when letters to the Governor and Board of Pardons and Paroles for Clemency or requests for Stays of Execution might help. I believe we were instrumental in the Supreme Court's decision to review the death penalty case against Hank Skinner.

Other films included "China Blue" which taught me about the deplorable conditions of Chinese blue jean sweatshops. We now search for fair-trade, union-made, or cooperative-made clothing. "The Two Towns of Jasper," "Reel Bad Arabs," and "The Canary Effect" opened my eyes even wider to racial and social injustice. I made calls to my Senators, Congresswoman and other Democrats to help get the Healthcare legislation passed so all Americans have an equal opportunity to be healthy. "Rethink Afghanistan" helped me reshape my thoughts about U.S. involvement in that country and become a true advocate for peace.

There were other films I saw and there will be other films to come that will continue to change who I am. I like the person I am becoming more than the person I was. To change the world we must first change ourselves. I will gladly continue going to the First Tuesday Film Festival at the Oak Cliff Unitarian Universalist Church of Oak Cliff and I urge you to do the same. You might just like the new you.