eNews Sign Up

Sign up for our mailing list to keep up with the latest news & events.
Make donations to UUCOC securely online with Paypal:


Social Justice and Social Action Efforts
of the Unitarian Universalist Church of Oak Cliff
"Love is the doctrine of this church and service is its prayer."
The Unitarian Universalist Church of Oak Cliff holds a Social Justice meeting the first Sunday of the month at 12:30 pm in the Hope building. At these gatherings, we discuss opportunities for providing support for various groups and agencies. Everyone in the community is invited, and encouraged, to attend these meetings—especially those who have a cause they would like to see supported by a group of advocates prepared to take action. These actions include writing letters, vigils, marches, petitions, and other appropriate responses.
We do not, under any circumstances, condone violence.
At the very core of its existence, Social Justice is about love. It is the call to recognize the intrinsic value of every individual, regardless of race, creed, ability, or sexual orientation. According to the UUA, there are five types of Social Justice.
Service:
The purpose of service is to provide for the needs of those in distress.
Education:
The purpose of social education is to educate people about the importance of a social issue. The goal is to inform people about the aspects of the issues and also interpret the issue within the context of liberal religious values. Education will include workshops, worship services, dramatic presentations, and similar activities.
Witness:
The purpose of social witness is to make public, by word or deed, the convictions of an individual or organization regarding a particular issue. Examples of witness may include public testimony on an issue, demonstrations, or letter-writing campaigns.
Advocacy:
The purpose of advocacy is to work through the legislative process to impact public policy. Advocacy includes writing letters to district representatives or visiting them in their offices, as well as public testimony.
Community Organizing:
The purpose of community organizing is to participate in the process by which decisions are made in places of power. The focus is on the power of institutional structures and how that power is used. This approach is based on the recognition that individuals have little power to change their situations without the support of groups who know how to organize and influence power.
Have you noticed this box in the RE Building near Kathy KinKaid's office?

UUCOC is working with CitySquare to provide a happier winter to some folks who need us!

General holidays needs include:
Clothing/Living:
Coats
Sweaters
Undershirts or plain t-shirts
Waterproof boots
Jeans
Rain Gear
Underwear (must be new)
Tennis shoes
Scarves and gloves
Blanket or sleeping bags
Pop up tents
Backpacks or rolling suitcases
Hygiene:
Full-size shampoo & conditioner
Bar Soap/Body Wash
Toothbrushes & toothpaste
Deodorant
Razors
Lotion (cocoa butter preferred)
Towels
Wash cloths
Laundry pods
Dryer sheets
Laundry baskets
Food:
Meat (canned beef, chicken, pork, tuna fish, etc.)
Basic Condiments (Salt, Pepper, Flour, Cooking Oil, Ketchup, Mustard, etc.)
Canned Vegatables and Fruit
Soups (Campbell's Tomato, Chicken, etc.)
Other canned items (chili, beans, etc.)
Non-perishable food items
Holiday:
Gift cards
Bus passes
Flashlights
Headphones
Slippers
Alarm clock radios
Scented candles
Candle warmers
Stress balls
Games
Holiday decorations
Stockings
Holiday foods - candy canes, apple cider, hot chocolate, candy
Dallas Area Interfaith


The UUCOC congregation voted in November of 2007 to join the Dallas Area Interfaith Association; a group of 60 congregations in the Dallas metropolitan area. This allows us to partner with a broad coalition of religious organizations working on local issues of importance. DAI makes it easy to step in and get involved in a number of issues that affect our community.
Rev. Mark Walz speaks at a rally in downtown Dallas
to end the Iraq war.
The Veggie Store
Our Veggie Store is every 4th Saturday from 11:00 am - 1:00 pm:

Sat Apr 28th
Sat May 26th
Sat June 30th (5th Saturday)
Please contact us if you are interested in donating money, time or fruits & veggies:
This email address is being protected from spambots. You need JavaScript enabled to view it.

Mike & Cat Luster organize the table for the Veggie Store


Our plans are for the Veggie Store project to branch out into a Religious Education Gardening Project where the RE kids will begin growing both produce and flower arrangements as a part of the beautification of the UUCOC property.
The Veggie Store project originated with St. Luke Presbyterian Church in Singing Hills (Oak Cliff).
The store offers free fruits and veggies to people in a neighborhood that's part of the "food desert" in southern and southeast Dallas. This is also in a neighborhood where people are less likely to buy vegetables. Some startup seed money was received from the church and it continued to grow based on donations and occasional purchases.
The St. Luke Presbyterian Church project has grown so much that it participates in Feed Oak Cliff activities such as the annual VegFest. They even have an official Facebook page now. Although St. Luke's wants to create a community garden, we will keep our focus on.the UUCOC RE program.
We hope to add some other activities to our Veggie Store day that will attract kids!
Green Sanctuary
We have begun our journey to become a "Green" Church and are actively working on raising environmental awareness within our membership and community. The UUA's Green Sanctuary Project involves an extensive process to "green" every aspect of church life, as well as work to bring envoronmental justice to our community. We are implementing programs to control our environmental impact and help educate ourselves and others on what can be done to preserve the resources of this planet.
Bring in your old printer cartridges and cell phones for the recycling box in the foyer.
Activities as a Non-Profit Organization
As a religious community, we abide by all IRS Guidelines for non-profits, which are,:IRS Guidelines and Congregations: The Three Rules

1. No Limits on Advocacy and Education (activities that raise awareness on a given issue but don't encourage the public to support/oppose specific legislation).

2. Narrow Limit on Lobbying (advocating for or against specific pieces of legislation).

3. Total Limit on Partisan Politics (anything that advocates for or against candidates or political parties


It Gets Better
We Stand on the Side of Love!
Please check out our "It Gets Better" Project Page!


It Gets Better
Congregational Social Justice Resolutions
2009: Our church passed a Medical Marijuana resolution by a unanimous vote of the congregation.

We believe that licensed health care providers should not be punished for recommending the medical use of marijuana to seriously ill people, and seriously ill people should not be subjected to criminal sanctions for using medical marijuana if their health care provider has told the patient that such use is likely to be beneficial.
Current work on passing a Texas Medical Marijuana law is being done by Texas Coalition for Compassionate Care.
2009: Our church passed an Anti-Sweatshop Resolution by a unanimous vote of the congregation.


This was a resolution to encourage the Dallas City government to pledge to avoid sweatshop garments when purchasing their uniforms. Current work on Sweatshops is being done by Sweat-Free Communities. They help communities, governments, churches, schools, etc., develop sweat-free policies.
First Tuesday Social Action Film Festival
Cosponsored by the Dallas Peace and Justice Center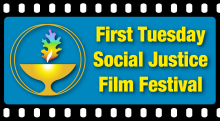 The First Tuesday of each month at 7:00 pm, UUCOC hosts free screenings of socially-relevant films. The screenings are followed by a community discussion, which often includes actions we can take for each issue. Films are shown on the large screen in the sanctuary. The films are free, as well as the popcorn and soft drinks! Donations are accepted to cover the cost of our license agreement and the purchase of new films.

Please visit our Film Festival page for details on this month's featured film:
How the Social Justice Ministry's First Tuesday Film Festival Changed My Life
- By Dee Stofko
First of all let me say, my life needed changing. After several mind-numbing years of raising three kids - now all safely ensconced in college - it was time to start paying more attention, living more responsibly, being more compassionate. The UUCOC's First Tuesday Film Festival helped shape the new me.

Since watching, "The World According to Monsanto," "Sustainable Table," and "Peaceable Kingdom," I have become vegetarian. I have been made aware of factory farms. Cows, pigs and chickens living in close, dark, unsanitary quarters, shot full of antibiotics, being fed GMO-corn to fatten them up quickly which, in turn, has fattened us up. More importantly, I have learned how to eat healthier by eating organic; to be more environmentally conscious by buying locally; and to make my voice heard through emails, calls and letters when my government does something that I don't like.

"An Inconvenient Truth" and "11th Hour" awakened me to how my choices were destroying our planet. My family now recycles, composts, uses organic fertilizer, and organic household cleaners. We have changed our electric supplier to one which uses wind and solar sources. We have traded our gas guzzlers for a diminutive Yaris and a Hybrid Prius that averages 45 miles per gallon.

"At The Death House Door" nudged me to join the "Coalition for Texans Against the Death Penalty" which keeps its members apprised when letters to the Governor and Board of Pardons and Paroles for Clemency or requests for Stays of Execution might help. I believe we were instrumental in the Supreme Court's decision to review the death penalty case against Hank Skinner.

Other films included "China Blue" which taught me about the deplorable conditions of Chinese blue jean sweatshops. We now search for fair-trade, union-made, or cooperative-made clothing. "The Two Towns of Jasper," "Reel Bad Arabs," and "The Canary Effect" opened my eyes even wider to racial and social injustice. I made calls to my Senators, Congresswoman and other Democrats to help get the Healthcare legislation passed so all Americans have an equal opportunity to be healthy. "Rethink Afghanistan" helped me reshape my thoughts about U.S. involvement in that country and become a true advocate for peace.

There were other films I saw and there will be other films to come that will continue to change who I am. I like the person I am becoming more than the person I was. To change the world we must first change ourselves. I will gladly continue going to the First Tuesday Film Festival at the Oak Cliff Unitarian Universalist Church of Oak Cliff and I urge you to do the same. You might just like the new you.


School of the Americas Watch

The Social Justice Ministry of the UUCOC and the Dallas Peace Center have sponsored trips to the annual November The School of the Americas (SOA) Watch rally and vigil as part of our ongoing work for human rights.
Our representatives at the 2007 SOA Watch

Located at Fort Benning, Georgia, and renamed as the "Western Hemisphere Institute for Security Cooperation" in 2001, SOA is a combat training school for Latin American soldiers whose graduates have consistently used their skills to wage war against their own people. The mission of SOA Watch, as a nonviolent movement that stands in solidarity with people of Latin America, is to close the SOA/WHINSEC and change the oppressive U.S. foreign policy that the SOA represents.


---
We are a Welcoming Congregation
As of 2005, we are officially recognized by the Unitarian Universalist Association as a Welcoming Congregation. This means our church underwent a voluntary effort to become more welcoming to members of the LGBTQ community. The process involved a series of educational events, organizational assessment, and community outreach.
For more on the welcoming congregation program, please visit the UUA website:


Oak Cliff Churches for Emergency Aid (OCCEA)

This is a collective effort with many of the churches in the Oak Cliff area working together to meet the emergency needs of persons living in Oak Cliff. By combining resources, OCCEA is able to distribute food, personal items, and financial aid to many people. Referrals are made to service providers who can help with long-term needs.

OCCEA is located in the Oak Cliff Presbyterian Church at 6000 S. Hampton. Visit the OCCEA website or call them at 214.943.7757. Volunteers are always welcome!